………………………………………………………………..
Women's struggle echoes heroine's battle

Story By Atia Abawi, CNN Correspondent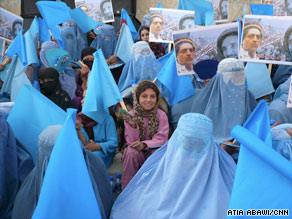 KABUL, Afghanistan — The women of Afghanistan are some of the strongest women I have ever met in the world. They have suffered subjugation and abuse, and faced inhumanities on a daily basis. Pain and memories live in their eyes; just one glance can shatter a person's naivete and send chills up your spine. But there is the other side to real Afghan woman. She is like many other women in the world. She loves her family, especially her children; they give her the strength to survive in the face of defeat. She is proud of her country no matter how many tears she has shed for it. And there is no one or nothing she loves more than her God; the only reason she believes that a change will come. Beyond the burqa, the scars, and the remnants of three decades of war — 30 years that has crushed a country and the spirit of a people — it is the Afghan woman who has shaped Afghanistan. And it is they who can shape a new future for a people who have been isolated and forgotten for decades. "Young love! If you do not fall in the battle of Maiwand; By God, someone is saving you as a symbol of shame!" the Afghan heroine Malalai yelled as she ripped off her veil.
It was 1880, during the Second Anglo-Afghan war. The Afghan soldiers, who outnumbered the British, kept falling one by one. They could not handle the heavy artillery; they were exhausted and felt defeated. Bodies lay, some bloody and some bruised. But it was Malalai's words that gave the Afghan soldiers the motivation and spirit to continue in battle and eventually defeat the Anglo-Indian army. For over a century now, families in Afghanistan have named their daughters Malalai, hoping that they too can one day be as brave as Malalai of Maiwand. Malalai Kakar of Kandahar lovingly prepared her six children for school every morning; clothing them, feeding them, and kissing them goodbye. She would then put on her police uniform in one of the most volatile southern provinces of Afghanistan — one still infested with a radical ideology. With her Kalashnikov and pistol at her side she was ready for another day at work. Kakar, like her father, became an officer in Kandahar to help the people and bring justice. And after the fall of the Taliban she worked to help rescue women who needed help; ones who were being tortured and abused.

According to the United Nations Development Fund for Women, 87 percent of women in Afghanistan suffer from domestic violence. It's one of the most dangerous places to be a woman.
But thanks to the increase in female police officers who are constantly threatened and targeted, other women are feeling more comfortable to report abuses and step out of the black hole they have been living in.
Malalai of Maiwand died waving the flag of Afghanistan during battle, not able to see her country in its victory.
Malalai of Kandahar was shot and killed by the Taliban, leaving six children to grow up without a mother.
But to many, she died waving the spirit of a new Afghanistan — one that will lift itself beyond the rubble of a shattered nation — in hopes that maybe her children will see the victory she had been fighting for.
Hopefully, that victory will come soon.
……………………………………………………..
Source : http://inthefield.blogs.cnn.com