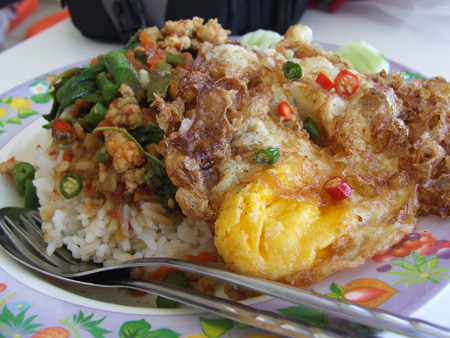 In Thai name this Thai dishes be called as  "Ga prow Gai-Kai dao"  
"Ga prow" in Thai  is "Holy Basil" , "Gai"  in Thai word is chicken,  "Kai" is egg  : 
So "Ga prow Gai – Kai Dao" is " the Chicken with Holy Basil Stir Fry"   Serve with rice and fry egg as topping.
It's the most well known  for all  restaurants [for order] in Thailand :
When some eaters who  find no idea  in their head, are sitting in Thai restaurant, and the waiters are waiting for their order , about 75% of Thai eaters will ask for  "Ga prow Gai-Khai Dao" or " Ga prow Gai"  in the first, before thinking to the next menu of them ; cause for Thai eaters, this Thai dishes is easy to eat, also it's easy to cook and can come to the table so fast, when their stomach are crying for the fast food!



The Main Taste of this Thai dishes is the smell of herbs from "Holy Basil" and garlic , the spicy taste of chili or chili pepper,  be mixed with the sauce and the  juice from fry meat,  the fry egg on topping will help the dishes to be solf ; eat it with the hot steam rice :  That's great easy Thai  food , which be fitting to the eater who have no idea in the time of hungriness.
If the eaters ask for "Pad Ga prow" , it's meant to the same dished, but unspecific to kind of meat in the dishes ;
 if they want "Pork" in the dishes they will ask for "Ga prow Moo", " Beef " is "Ga prow Nuer", and will not add "Kai dao" in the oder if they don't want "egg" on topping.



How to Cook Ga prow Gai-Kai dao
Ingredient
2 tablespoons vegetable oil
4-7 Thai chili pepper, minced
1 tablespoon sugar
1-2 packages holy basil
1/2 lb ground chicken
1 tablespoon garlic, minced
3 tablespoons fish sauce



Tips and substitutions
You can substitute ground turkey or pork for ground chicken. Some people like the meat cut up in bite size piecesrather than ground.
In Thai restaurants in America, Sweet basil or Thai basil is usually used for this dish. While an acceptable substitute, it is not quite the same.
Mince garlic and chili pepper together. Clean and pick ga-prow leaves from their stem. It may appear like a lot of leaves, but the leaves will shrink when cooked and this dish's flavor comes from the leaves.
Fry the garlic and chili pepper in oil over high heat. When garlic starts to turn brown, drop the ground chicken in. Stir constantly. The juice will start to come out. Keep stirring until all the juice is gone. It might take a couple of minutes. Add sugar and fish sauce. Then add Thai basil. Quickly turn it over a few times to mix the leaves with the meat and then remove from the fire and put the gai pad ga prow in the serving plate or dishes. Serve hot with rice.
[Fry egg, and put it on top of the dish, if you want Kai-dao]
Normally in Thailand, gai pad ga prow is served with a small bowl of chili pepper in fish sauce.
Credit : http://www.bloggang.com/viewdiary.php?id=jjbd&month=10-2007&date=27&group=14&gblog=49
………………………………………………………………………………………….
Copyright © 2009 By GoodSiam.com